As Spring races onwards, the weather's getting balmier and as we approach Summer, pub gardens from the coasts of Cornwall to the wilds of Wales have dusted off their outdoor furniture and polished up their cask ale taps, ready to serve eager crowds. Pub and restaurant gardens will likely become a hub of activity this summer. Many of us also fell in love with our own gardens in the past year or so, with impromptu BBQ's and the relaxed delights of outdoor entertaining.
I can't deny I'm looking forward to that first sip of a cold, crisp glass of wine in the gardens of my own local restaurant, or savouring a well-made G&T on a peaceful summer's evening – but alcohol, for me, has become an occasional treat – rather than a nightly necessity.
Dry January (and this year even February and into March, in my case!) seems like a very distant memory now, but for me, those 60+ days of being alcohol-free were surprisingly enlightening. 
It wasn't just about giving my liver a break. Rather, the disaster that was 2020/21 has motivated me – like so many others – to take more responsibility for my health and be more mindful of what I'm consuming.
I wasn't particularly looking forward to it. The first few weeks were a blur of sugar-laden soft drinks and unsatisfying alcohol-free replicas which aimed to simulate the taste of alcohol, without the effects, both of which left me feeling quite bereft.
Eventually, I started to create my own mocktails. Shunning alcohol forced me to be more creative with the ingredients in my glass, and in my quest to recreate the elusive 'kick' and complexity of an alcoholic drink, I discovered that all that was needed was a more of a grown up approach to 'alternative no or low alcoholic' drinks. 
The satisfying sourness of ingredients like wild sea buckthorn juice and my go-to local discovery, Willy's organic apple cider vinegar, created just down the road in rural Herefordshire, make for a superb mocktail 'base'. In fact, 'drinking vinegars' like apple cider, with the live 'Mother' enzyme are increasingly used as 'cocktail shrub' – a concentrated syrup made from fruit, sugar and vinegar to create a sweet or sour acidic mixer.
Also for a more 'traditional' approach, I discovered 'ANON Non Alcoholic' drinks, created by a friend of mine. 
Below are some of the details on each he shared with me: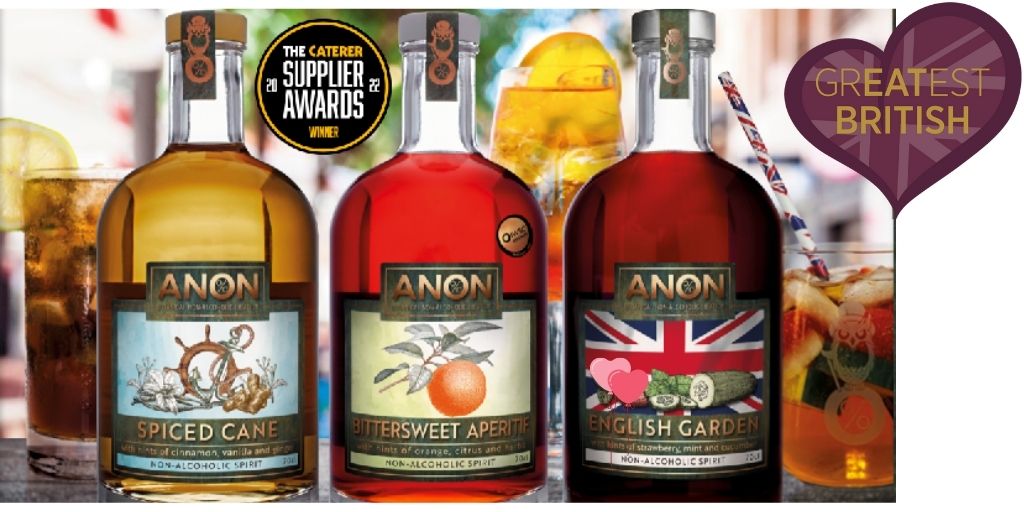 ANON Bittersweet Aperitif
Designed for spritzing, mixing and negroni making blends of natural flavours and botanicals : Bitter Milano including wormwood, vermouth, orange, gentian and quassia extracts.
The palate profile is complex and developed with hints of orange, citrus and herbs. I find best served over ice, in a large wine glass, topped with soda water, tonic or prosecco, with a slice of orange
ANON Spiced Cane
Use it like rum, it is designed to be drunk on its own, mixed with coke or in a great mocktail. Blends of complex flavours and botanicals create a warming spice with hints of cinnamon, lemon, vanilla and ginger
Best served in a tall glass, over ice, topped with coke and a slice of fresh lime.
ANON English Garden
This is new, in time for this years Jubilee Summer! A non-alcoholic alternative to Pimms, perfect for a sun-kissed summer afternoon. Blends of natural flavours combining classic summer fruits, cucumber, mint, orange, apple and strawberry
Best served in a tall glass with plenty of ice, a sprig of mint, topped up with lemonade, tonic or (for the decadent) prosecco. Also just Awarded a Bronze medal at the prestigious London Spirit Awards 2022!
The inner wellbeing this has brought simply doesn't compare to the short-lived perks of a nightly G&T. So if you're looking forward to outdoor entertaining but you want to put your health first, I heartily recommend getting creative with mocktails – you'll enjoy a moreishly robust punch, but without the guilt.
Interest in more on ANON? Visit their website here
Pissst…Save 25% off if you apply code GBX25 before June 1st!
Here's to a more 'responsible' 2022 – cheers!
Tips for Going Alcohol-Free
When it comes to Tips for Going Alcohol-Free, the most important thing to remember is that it's okay to take things slow. If you're used to drinking every day, start by cutting back to just a couple of times a week. Once you're comfortable with that, try going a few days without drinking at all. And finally, once you've mastered that, aim to go an entire month without touching alcohol.
Of course, everyone is different and some people may find it easier to go cold turkey while others may need a more gradual approach. The key is to find what works best for you and stick with it.
Don't just take my word for it, try ANON for your own bar,
ideal for Summer drinks and much needed profit margins!
Reply here
for a free sample 20cl trial 3 pack (pictured)