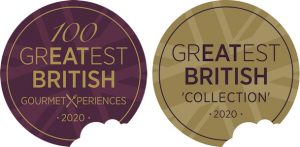 Does your hospitality business take pride in providing a unique customer experience?
Would you like t take part in the '100 GREATEST BRITISH GourmetXperiences 2020′?
Join our lifestyle network: THE GREATEST BRITISH COLLECTION
We are are seeking to partner with 100 of Britain's most exciting, innovative and inspirational accredited chefs, cookery schools, producers and British lifestyle brands to provide partner support in celebrating the diversity of sustainable British hospitality.
Through our active and engaged 'GourmetXperiences' community, we promote the very best of seasonal, sustainable British cooking and exceptional service standards through our specially created 'GourmetXperiences' website based products and gourmet gifts – whether it's a wine tasting at a vineyard, distillery tour, cookery school masterchef day or a taster menu from a top chef with an indulgent overnight stay.
Gourmet gift experiences are the fastest growing consumer market amongst high-spending individuals seeking unique, memorable experiential gifts that showcase the best of British hospitality, and as the market leader on Google organic search terms, we can help you tap into that market through our 'GourmetXperiences' platforms.
Becoming a GREATEST BRITISH COLLECTION member means we will promote your venue or experience directly to our high disposable income consumers, reaching over one million UK wide!  Each are able to purchase experiences directly as exclusive treats, personal gifts or corporate rewards.
On redemption, you can receive up to 100% of the revenue – All our admin, credit and marketing fees are built into our competitive one-off annual 'Membership' packages. We even help reduce your day-day on-line booking costs to zero!
We don't work with High Street brands or big chains – instead, we seek out independent partner venues that reflect our ethos of promoting diversity in hospitality, seasonality and sustainability of ingredients and underpinned by exceptional service standards – including Michelin and other accredited chefs, leading British food and drink producers and 'Greatest British Cookery School' members.
While the industry faces challenges of rising costs and stay-at-home-diners, there's now a tremendous opportunity to provide more added value to consumers who want something more from their dining out experiences, hotel stay or brand purchase, via our fully opted in high spending gourmet consumers and supporting digital platforms.
Attracting new high spending consumers.
We have teamed up with national retailers, who will be promoting our 'GourmetXperiences ' to over one million opted in lifestyle seeking food consumers seeking immersive experiences and gourmet gifts throughout the year, leading up to Christmas. Purchasers will be sent to your business, many during January-Spring  when the industry needs them!
ZERO% Commission Membership Packages.
Providing you with low or zero cost of sales on redemptions.
PLUS zero fees on day-to-day table bookings. Potentially saving your business £1000's per annum.


A percentage of revenues will be donated to industry charities.
You can nominate your preferred charity, or take 100% of redemptions revenues for your business.
GREATEST BRITISH COLLECTION and you – together, we're the perfect sustainable package!
See who else we work with in our news and 'Features' section here
Would you like to find out more about becoming a Greatest British member and enjoying the many benefits we offer?