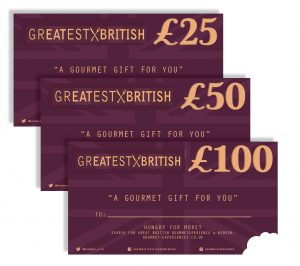 GREATEST BRITISH GOURMET GIFTS
"Eating is not just about food. It is about where your food is from, how it is cooked, where you eat it, the environment you are eating it in, and – more important than anything – the people you are eating with. These are the ingredients that help us celebrate and support our campaign to EAT BRITISH!." Says GREATEST BRITISH founder James Day.
This is the philosophy that has led the team at GREATEST BRITISH to bring together a collection of accredited chefs, cookery schools and producers to celebrate and promote eating and of course drinking the Greatest British products produced in and around Britain. Focusing on sustainability, seasonality and exceptional service standards, we aim to generate informative content and where possible create gourmet gifts that make the special, eXtra special.
Each individual Gourmet Gift and specific 'GourmetXperience' celebrates the best of British and brings something extra to the table; a metaphorical 'ingredient' to create an eXperience that 'informs, educates or inspires' the recipient – the perfect present to give a fellow gourmand or an unforgettable experience for yourself or to reward a work colleague that goes beyond any financial value. An 'unforgettable experiential gift'. Our monetary Gourmet Gift Certificates are accepted at over 300 supporting outlets across Britain, including our website featured venues. Purchase here
Supported by hospitality industry leaders and charities. Focusing on sustainability and the importance of education to 'inform, educate and inspire'. Features by  Raymond Blanc OBE, Cyrus Todiwala OBE, Michael Caines MBE,  Shaun Rankin, Brad Carter and eXperiences at accredited cookery schools including Jean-Christophe Novelli, Michel Roux Jnr and Leiths School of Food & Wine.
GOURMET GIFT GUIDE
Each contributing chef, venue and cookery school is featured in GREAT BRITISH GourmetXperiences Guide, available on line here Or purchase ANY GourmetXperience or gift vouchers over £100 to receive your gift copy FREE RRP £15.
COOKERY SCHOOL GIFT CERTIFICATES
Working with accredited Independent Cookery Schools Association (ICSA) cookery schools across the country, there's also the opportunity to learn new skills that will stay with the recipient forever.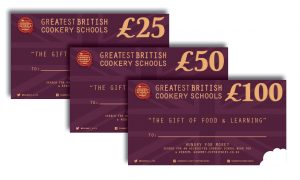 Supported by over 25 of the GREATEST BRITISH  ICSA Accredited Cookery Schools for which you can purchase dedicated Gift Certificates here.
After much research, planning and meetings with industry experts, GREATEST BRITISH  founder James Day has created experiences that he believes the recipients will savour for a life time, and participating Chefs will deliver with relish.
"Food is about passion, emotion and sharing" comments James "each GourmetXperience is carefully selected to provide the key ingredients which our members have said are important, married with what excites our chefs and cookery partners to deliver to true discerning gourmands. We hope that as we grow the diversity of what we offer will extend far beyond any boundaries set by operational restrictions or high fees charged by other gift providers. Charities can also benefit as Chefs can nominate their favourite charity and we return 100% of allocated GourmetXperiences funds direct to them. Everyone benefits!"
He says: "Our research has shown that people want 'added value extras' from an experience at a restaurant, hotel or cookery school. It is no longer about discount; no-one wins from this and it is unsustainable in an industry which works on very tight margins due to sourcing of quality sustainable ingredients, which often command a high price. Our members and followers ask us where they can go that is 'really special'. Our gourmetXperiences.co.uk website, Signature Chefs Books and Gourmet Guides celebrate the independent British hospitality industry and showcase the best that money can buy with added extras that money often cannot. A memory or emotion is forever – you can't put a price on that!"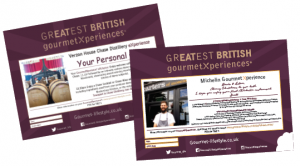 GOURMET GIFT SEARCH
"With our easy-to-navigate sections, we hope to encourage people to dine out and try new places, new British products and new British GourmetXperiences. Sharing along the way with others, via discussions and social media on how they can help improve and support Great British producers."