Julia Trustram Eve of newly formed 'Wines of Great Britain' shares insights into the burgeoning UK wine industry
In the competitive world of wine, the UK ranks as one of the smallest wine regions but arguably, this is one of the most exciting, attracting not only plenty of attention from the domestic wine trade and press but making its mark on the international stage as well. The future is looking very bright for the wines of Britain. In 2017 over one million vines were planted in teh Uk, the highest number in a single year, according to the newly formed organisation 'Wines of Great Britain' or "WineGB" who represent the wines growers of the UK.
There are now over 500 vineyards in the UK, stretching across the south of England, up through the Midlands and East Anglia to Yorkshire, and in North and South Wales. These range from large commercial concerns to small vineyards whose wines are only sold locally. The bulk of acreage and vineyards lie in the southern part of England.
Although vine growing in the UK goes back to Roman times, it is only since the 1950's that a commercial industry has developed. What started with just a few hundred acres has grown to over 5,000, and more vineyards are being planted year upon year. In the last ten years, acreage has more than doubled and has nearly tripled since 2000.
This year alone, some one million vines were planted. All of this means that there will be increasingly available wine in the coming years. Average annual production is now just over 5 million bottles and is predicted to grow to some 40m by 2040.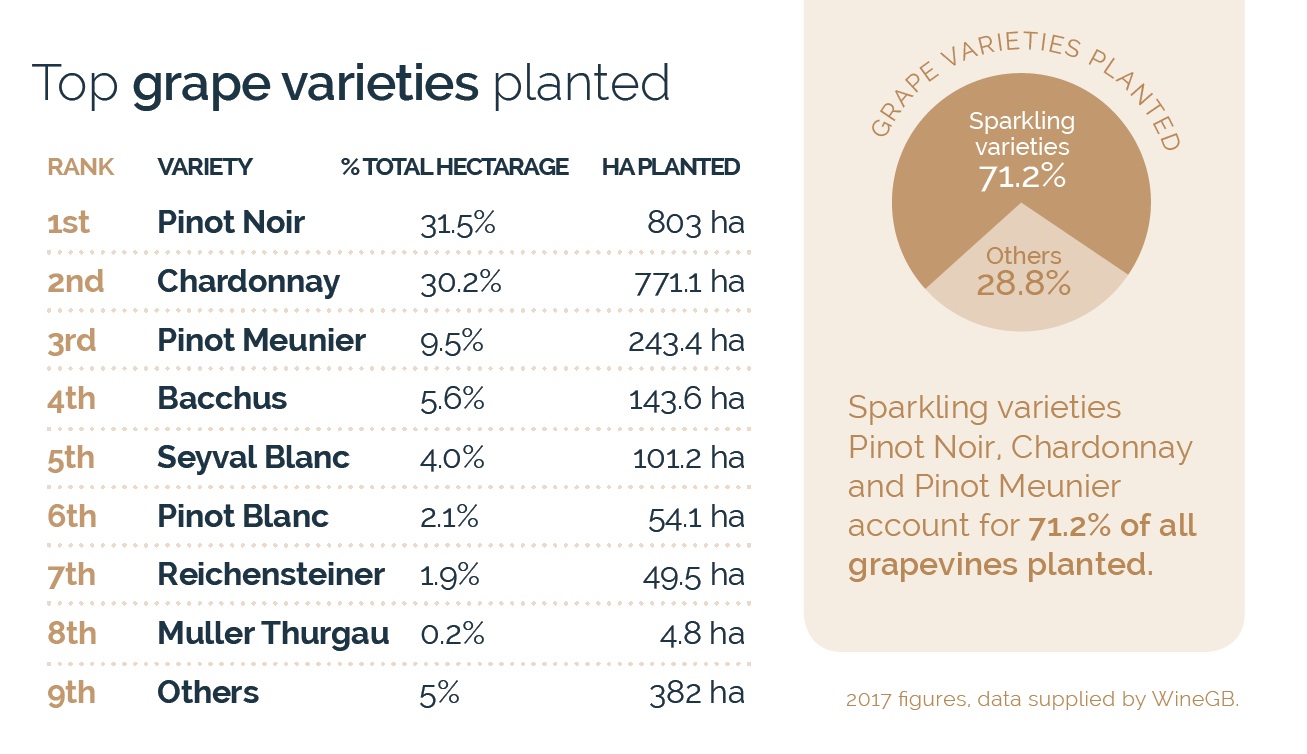 Sparkling wines account for about two-thirds of the country's total wine production, and is a style that is leading the UK's reputation for producing high quality wines. Most are produced from the same varieties grown in Champagne (Chardonnay, Pinot Noir and Pinot Meunier). Their finesse and longevity are proving themselves year upon year on the world stage in blind tastings and competitions. The fact that Champagne houses are now investing in England is proof of the confidence in this wine region.
Taittinger planted their first hectares in Kent this year, and Vranken Pommery have invested in an operation in Hampshire. The UK's still wine sector also boasts noteworthy credentials.
Grape varieties such as Bacchus, Pinot Gris, Pinot Noir and Chardonnay are producing styles of wines to delight the palate as well as other aromatic and new varieties that thrive in this cool climate.
The result is a great range of styles from dry to medium dry whites, refreshing rosés, some luscious dessert wines and fruity reds. These wines are the perfect partners to a wide range of seasonal food throughout the year.
The ever-growing interest in, and a following for, regional food and drink is undoubtedly urging people to look more to the high-quality products produced on their own doorstep. English ad Welsh wines are now readily sold in high street stores, independent retailers, online, in growing numbers of restaurants and bars and of course at the cellar door.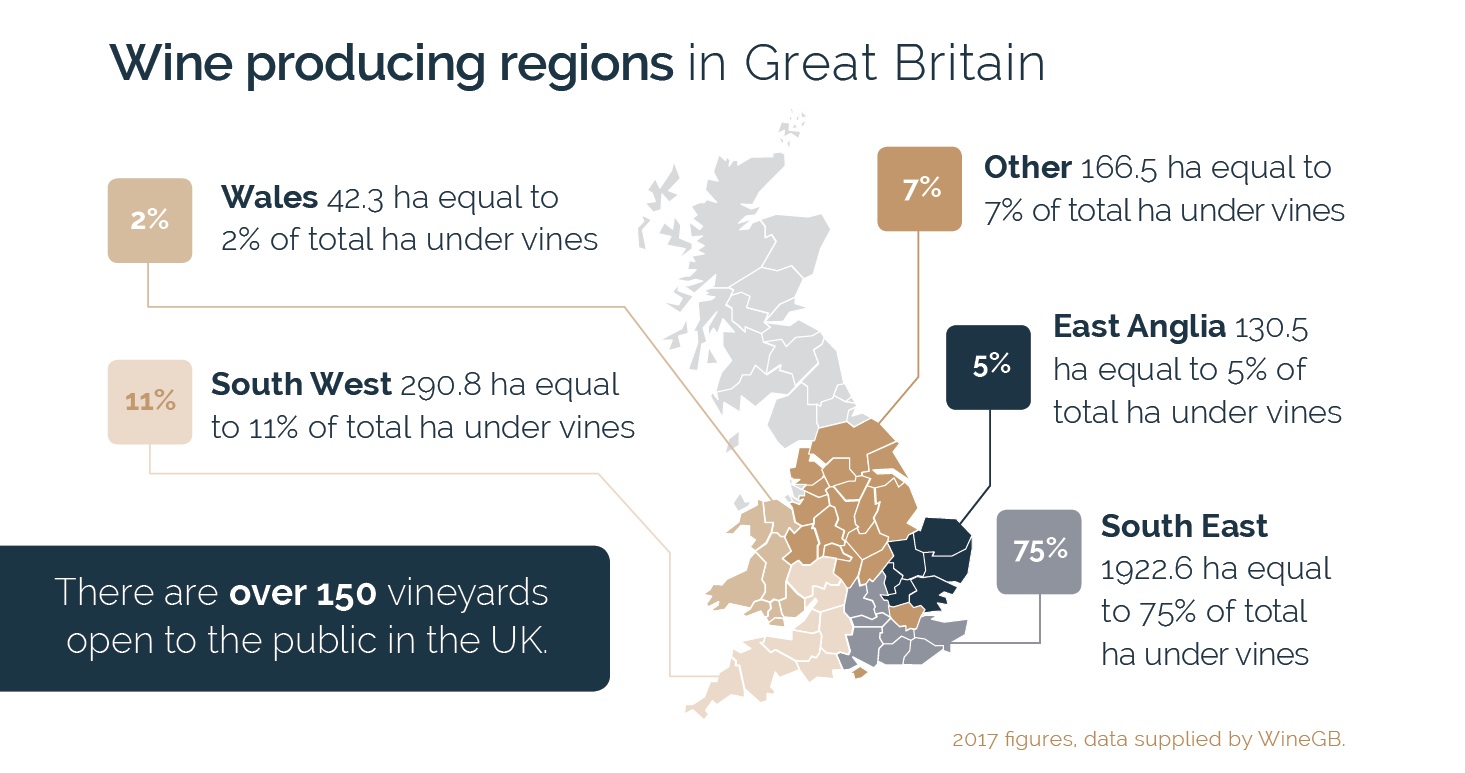 Another area of sales growth is in export, with 4% of English wines now sold in some 27 different countries across the world. There are great stories behind the wines and vineyards from these shores. The UK does not boast the same long culture in wine growing as its European neighbours; instead, those mainly first but also second generation wine producers bring innovation and discovery, seeking and producing new styles, developing trends, learning, experimenting and growing.
They are creating a winemaking tradition here and paving the way for more growth. The UK wine industry is one of the fastest-growing agricultural sectors in the UK and is bringing significant growth to the rural economy through job creation to tourism and providing a longterm, sustainable product that involves fewer food miles.
There are a growing number of vineyards open to the public, including Hattingley Valley in Hampshire who offer informative and immersive wine tour experiences giving a chance for wine enthusiasts and leisure tourists to enjoy all that they offer, and providing an added element to a stay in the countryside. Interactive and hard copy maps are now available to help find a vineyard to visit.
In a country that sells one of the widest ranges of wines from across the globe, English wines are a noteworthy success story, with their own world-class credentials, ongoing growth and exciting future. Now surely is the time to get behind this exciting range of wines. For more information on the vineyards and wines of the UK visit wineGB.co.uk
Read about the process of producing award winning English Wines here
Original feature in GREAT BRITISH  GourmetXperiences Guide 2018, available here