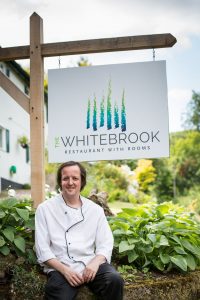 Having trained at Le Manoir Aux Quat'Saisons, Chris Harrod launched The Whitebrook Restaurant with Rooms with his wife Kirsty in 2013 and just 11 months later was awarded a Michelin star. Making the most of the abundance of produce available in the Wye Valley, every dish on the menu, from breakfast through to dinner, features locally sourced and often foraged ingredients.
Using nature as his larder, Chris has earned The Whitebrook 4 AA Rosettes, an AA Wine Award for Wales and a place in the Good Food Guide Top 50 UK Restaurants. Stylishly decorated with understated stone and wood and located in the blissfully peaceful countryside, The Whitebrook makes the ideal rural gastronomic retreat.
GourmetXperience: Forging with Chef Chris Harrod.
You and a guest can enjoy an eXclusive intimate foraging GourmetXperience with Chef Chris and expert forager Henry Ashby on a unique trip out into the countryside in search of produce which they may find beautifully woven into a dish on the menu at the restaurant later that day.
There isn't much Henry Ashby doesn't know about wild food in Britain. He has been foraging for over 50 years and was taught by his grandfathers in Yorkshire where he foraged the rivers and hedgerows and learnt all about mushrooms. He spent time shrimping and collecting seaweed, cockles and sea spinach in the Scilly Isles before ending up in Wales where he supplies some of the region's best restaurants.
Chris Harrod developed his love of wild food whilst training under Raymond Blanc at Le Manoir aux Quat'Saisons. When he opened The Whitebrook with his wife Kirsty in 2013, the blissfully peaceful rural location made using the countryside as his larder a natural choice. Many of his ingredients are locally foraged and everything else is sourced from within a few miles from local producers.
eXclusive GourmetXperience released soon.
Register for our newsletter to be the first to experience this unique gastronomic discovery not available anywhere else, here