Shaun Rankin, of Ormer Restaurant Mayfair shares his passions for British Produce talking about his new Greatest British GourmetXperiences.
The restaurant experience is all about the best British ingredients for Chef Shaun Rankin – a Northern lad with a passion for Jersey produce. Michelin-starred chef Shaun Rankin was born and raised in Yorkshire but when it comes to food his heart has been well and truly captured by Jersey.
Shaun opened his flagship restaurant Ormer, in Jersey's capital, in 2013 with an ambition to bring a vibrant and sophisticated restaurant to the centre of St Helier, while showcasing the island's amazing local produce.
In 2016, he went on to open Ormer Mayfair, in London, part of the luxury boutique hotel Flemings Mayfair. Shaun's intention was to bring the shores of Jersey to the heart of London. Sustainably sourced, seasonal produce is at the heart of both restaurants.
Shaun parted company with Ormer Jersey in November 2017, to focus on his Mayfair restaurant.
Shaun's menus are bursting with a wonderful bounty of Jersey and British fare that is simply prepared. "It's a recipe that diners flock to the restaurants for," says Shaun.
"People come to Ormer Mayfair fresh seasonal British lobster, crab and oysters. The shellfish from Jersey is so special as the waters are beautifully clear and full of nutrients. The island benefits from massive tidal movements which keep the waters fresh and the seafood bountiful, you can taste the sweetness in the crab and lobster," he says. Other world-class Jersey ingredients served up in London include Jersey Royal potatoes, Jersey asparagus and a range of dairy products made from the creamy milk of Jersey cows.
Shaun is a fan of wild food from the island and loves to use foraged herbs. "They are collected by my forager Kazz Padidar who finds everything from pennywort, to sea purslane, salty fingers, rock samphire and wild rocket. One of my favourites is the salty fingers; I use this a lot in cooking as it delivers little juice bursts of the sea and it goes really well with my signature turbot dish."
Sourcing British produce is hugely important to Shaun, with up to 95% of Ormer Mayfair's menu coming from the UK "I am always enthused by the variety of produce available in London and we ensure the best is brought into the restaurant to complement the Jersey produce. I get a lot of inspiration from London's food culture.
Shaun explains: "Ormer Mayfair's interior reflects quintessentially British glamour."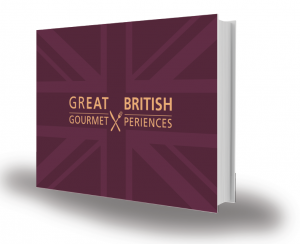 eXclusive interview with Shaun Rankin features in 'GREAT BRITISH GourmetXperiences Guide' Celebrating Greatest British Accredited Chefs, Cookery Schools and Producers. Search Here