The Greatest British Collection is a pioneering gourmet lifestyle network which celebrates and promotes the UK's most outstanding food and drink experiences.
Through our multiple B2B and B2C networks and channels, we partner with exceptional hospitality providers and connect them to our highly engaged customer base through print, digital, membership and social media platforms. Founded by food writer, author and marketeer James Day, the 'Greatest British Collection' was created to support hospitality operators who each have a unique story to tell. From marketing Michelin-accredited chefs and interviewing some of Britain's finest culinary masters to nurturing the nation's most innovative new chefs, James and the team have a wealth of industry experience.
With our support, hospitality and lifestyle partners just like you can connect to a dedicated network of affluent food lovers that you may not otherwise reach, greatly amplifying your traditional marketing efforts and helping you move your business to the next level – especially during quieter times of the year when you need it most.
We achieve this through our customer facing culinary gift experience platform, 'GourmetXperiences'. Through this platform, our customers can explore a trove of immersive ideas and unique experiences.
They can then purchase our Greatest British monetary gift certificates and specific GourmetXperience packages to spend at their chosen venue – whether it's an accredited restaurant dining experience, chef-driven accommodation provider, cookery school, vineyard or distillery tour, or the chance to meet food producers.
The Greatest British Collection seeks out hospitality partners who very much share our ethos of celebrating sustainability, seasonality and service of the highest standards. Together, we can bring an exciting range of aspirational but accessible gourmet gifts to our ready-and-waiting customer network.
What makes a gourmet experience truly special? Is it the chance to learn new cookery skills? The simple pleasures of sampling a menu that creates culinary magic? The opportunity to watch pioneering food producers hone their craft? Or perhaps it's the once-in-a-lifetime memories and the wealth of inspiration to take home with you?
James Day has made it his mission to answer this question. For over 25 years, he's immersed himself in the hospitality industry, both as a consumer and a promotor. As a passionate gourmand, James has been at the cutting edge of the culinary world, from marketing Michelin-accredited chefs to nurturing the nation's most innovative food brands. A deep appreciation for British seasonal produce and excellent hospitality have inspired James to create an entirely new genre of gift experience, known as 'GourmetXperiences' – British focused experiences that truly celebrate the very best that the UK's artisan and independent food scene has to offer.
Greatest British is a pioneering gourmet lifestyle network which celebrates and promotes outstanding food and drink experiences, and makes them available to purchase directly via its consumer-focussed network, and dedicated website Gourmet Experiences.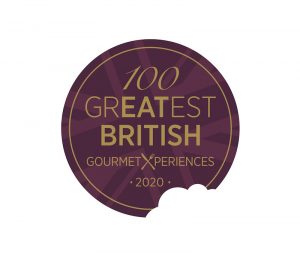 Search for the '100 GREATEST BRITISH GourmetXperiences' 2020/21
Celebrating the Greatest British Chefs, Cookery Schools, Gourmet Destinations and Producers. 
From Autumn 2020 the team we will be announcing up to 100 unique 'GourmetXperiences' targeted at corporate gift seekers and passionate gourmands leading up to Christmas. Each experience has been created with our partners to celebrate the diversity of British hospitality, and quality, seasonal, sustainable produce.
Through Greatest British, Founder James Day and his team are launching the campaign to seek out the country's 100 best chefs, cookery schools and independent artisan food producers. All to be shared on the Gourmet-experiences.co.uk website, with them all being announced from British Food Fortnight, to then be featured in the GREATEST BRITISH COLLECTION 2021 Printed Guide. .
The team are seeking out English wine producers, artisan distilleries and breweries, pioneering cookery schools, boundary-breaking chefs at Michelin-accredited restaurants, and hotels which have a strong focus on food and drink – all celebrating seasonality, sustainability and exceptional hospitality.
To be eligible, experience providers must be independent, environmentally aware promoting sustainability, focussed on sourcing British seasonal produce and either industry-accredited or recognised for excellence.
Each of these "100 GREATEST BRITISH GourmetXperiences" will be available for consumers to purchase directly through the Gourmet Experiences consumer website, either as a unique experience for themselves or as a wonderful gift for friends, colleagues or loved ones. Each profiled in the premium lifestyle printed guide 2020, released this Autumn.
"A memorable, food-led experience is peppered with so many things – where the ingredients are from, how they're prepared, the ambience of your environment, the people you're enjoying it with. These are the things that create the experiences we remember," says James.
"Since I entered the British hospitality industry, there's been nothing short of a food revolution – with chefs more focussed than ever on local produce, seasonal ingredients and excellent hospitality – and Britain has finally taken its' place on the global culinary map.
"While the industry has faced challenges around of rising costs and stay-at-home-diners, there's now a tremendous opportunity to provide more value to consumers who want something more from their hotel stays and dining out experiences.
"They want the kind of memorable experiences that last a lifetime, so by pushing the boundaries of what restaurants, cookery schools, food producers and venues normally offer, we can provide the industry with a sustainable way to attract and maintain guest loyalty – as well as providing unique gourmet experiences directly to consumers."
Potential experience providers and venues can find out more at our dedicated trade members pages here
Our monetary gift certificates can be redeemed with over 250 independent restaurants, hotels, cookery schools and food producers nationwide.
Stay Social.
Be part of our #GB100GX launches on our social media channels: Facebook Twitter Instagram
The Gourmet-Lifestyle.club     
All activities are supported by our membership driven Gourmet-Lifestyle.club. Gourmet-consumers receive exclusive invites to the latest GourmetXperiences,  Chef events, product trials and up to 30% of British suppliers!  We can profile your business with exclusive offers to our high net-worth aspirational foodies.