WhitePepper Chef Academy, Dorset
A leading chef academy which was named 'People's Choice Best Small Cookery School 2015'. Michelin-starred chef Mark Treasure was appointed Chef Director in January 2017. The Academy won Food & Travel Magazine's 'Cookery School of the Year' 2019.
Professional training prepares students for the commercial kitchen, assists food entrepreneurs realise their dreams or provides necessary life skills to those on a gap year. Lessons for amateur cooks include full day or evening courses in getting to grips with the skills needed in producing dishes from around the world.
COURSE GUIDE: From £75-£185
SPECIALITY: Knife Skills. Gap Year. Michelin Cheffing.
WhitePepper Chef Academy, Dorset
Purchase Greatest British Cookery School Gift Vouchers redeemable at WhitePepper Chef Academy ICSA members below: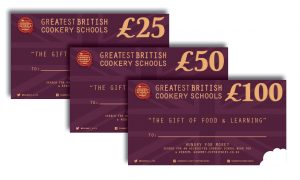 Categories:

Greatest British Cookery Schools, ICSA, Learn, MyLakeland
Tags:

Asian, Baking, European, Fish, Knife Skills, Meat, Plant Based, Vocational