The Grand Hotel Cookery School, York
Based in York's finest hotel, The Cookery School at The Grand opened in March 2019 and offers express, half- and full-day courses focussing on a selection of International cuisines and speciality classes.
Led by Head Tutor, Andrew Dixon, the Cookery School is designed for novice and aspiring chefs, with classes inspired by cuisine from around the world.
Not only is the cookery school the perfect setting for leisure guests, but it's also set to add a dynamic and immersive element to conference and events for business clientele.
Courses can be either residential or non residential and are available for all ages and ability levels, including children's cookery lessons.
Experience local cookery courses applying seasonal ingredients sourced from local artisan suppliers. Supported by international cuisines to speciality classes and dinner party menus. Choose from a selection of express, half and full day classes where you will enhance your skills and create impeccable dishes under the expert guidance of their chef tutors.
Fully interactive, hands-on cookery classes overseen by the highly qualified experienced team of Chef Tutors, led by Head Chef Andrew Dixon.
Full days also include lunch, matched with wines, and refreshments provided throughout the day.
GUIDE PRICES: £85-295.
SPECIALITY: Seasonal local food from their gardens. Guest Chef experience courses.
Purchase Greatest British Cookery School Gift Vouchers below: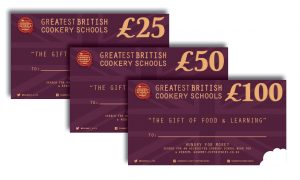 Categories:

Greatest British Cookery Schools, ICSA, Learn, MyLakeland, Stay
Tags:

Baking, Bread, Celebrity, Chocolate, European, Fish, Game, Meat, Outdoor, Plant Based