Edinburgh School of Food and Wine
The Edinburgh School of Food & Wine is Scotland's oldest independent and respected cookery school, established in 1986.
Their experienced team of chef's teach students a broad range of abilities, techniques and skills, for the complete novice to the aspiring professional.
Situated in The Coach House of the Newliston Estate, the school provides a perfect setting for their wide range of Educational Courses, One Day Cookery Classes, Food & Wine Evenings, Masterclasses, Leisure Activities and Corporate Events. They are proud to say they are a zero waste-to-landfill organisation.
PRICE GUIDE: From £80
SPECIALITY: Food and Wine Courses
Edinburgh School of Food and Wine, Scotland
Purchase Greatest British Cookery School Gift Vouchers redeemable at Edinburgh School of Food and Wine and all ICSA members below: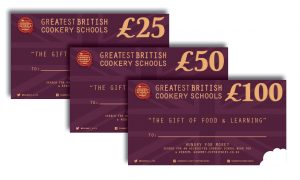 Categories:

Greatest British Cookery Schools, ICSA, Learn, MyLakeland
Tags:

Asian, Baking, BBQ, European, Fish, Meat, Plant Based, Vocational, Wine