Independent Cookery School Association "ICSA" is the only independent, non-profit, regulatory body for cookery schools in the UK
As a member of ICSA you will be awarded the 'ICSA Kitemark' seal of approval for clients and industry that you have met the essential criteria, ensuring your excellence as an educational training establishment. You will belong to an association of trusted cookery schools which the consumer can rely on to deliver consistently high standards in all areas of teaching and practice.
ICSA mission is to assess, promote and advise cookery schools of excellence and help and encourage students in choosing quality schools in the ICSA group. ICSA has been established as a membership driven advisory body for cookery schools and importantly, a support network for a community of excellent schools who work together with the aim of sharing and encouraging best practice and skills excellence. ICSA also provides support and guidance on legislative matters and lobbies on behalf of its members.
2019 is set to be the ICSA Fifth Year Celebration Anniversary.
ICSA was founded in 2014 by Stella West-Harling (Ashburton Cookery School) Seamus Geoghegan (delicious! Magazine), Celebrity Chef and Industry voice Nick Nairn and recently supported by
Membership and PR Director Kate Baily, and Director of Marketing James Day.
The Management Advisory Board of recognised sector leaders to assist, advise and help direct ICSA was established as Camilla Schneideman (Leith's), Jean-Christophe Novelli (Novelli Academy), Andrew Maxwell (Tante Marie), Dominic O'Nions (Ashburton Cookery School) and Jo Bertinet (Bertinet Kitchen Cookery School), supported by Nick Smith (Smith & Co Accountants), recently joined by Peter Ainsworth of P.Ainsworth Associates and James Day of 'Greatest British Company' as Director of Marketing.
These heads of renowned cookery schools, industry leaders and sector specialists bring a wealth of experience from chef tutoring and training, PR and marketing, supported by web, social media and publishing development skills. Their role is to provide feedback and be part of the decision-making process. The Board is in constant dialogue with each other and the Directors and aims to meet quarterly to discuss and vote on procedural subjects and steer the direction of ICSA and to set acceptable protocols for its members, communicating on a National platform, across all media channels.
With the accreditation process and criteria established, ICSA has a network of inspectors, who are all experienced and respected sector professionals. The assessment process and criteria are fundamental to the credibility of ICSA. These cover both the legal and professional standards. Having been developed by Stella West-Harling and academics at the University of Exeter, these documents were designed and interpreted into a user-friendly format by the ICSA Management Advisory Board.
Each potential member undergoes a rigorous assessment lasting 4-6 hours. During this time, teaching will be observed, premises are inspected and documentation which fulfill the legal requirements for cookery schools are seen and collated, along with marketing materials. If a school satisfies the criteria they are awarded the kite mark and become eligible immediately for all ICSA benefits, including their Members National Marketing Network.
An important criteria for membership of ICSA is that every member should have a dedicated, fully equipped and regulated teaching kitchen. Providing high levels of student experience and knowledge.
Should a school not meet the criteria, they are given extensive feedback and support in order to help them improve in highlighted areas. They are required to provide evidence of changes and a follow up inspection is sometimes necessary to ensure the highest standards. Until the appropriate standards have been met, the school will be classified as an Associate Member and will not have full access to our marketing support services but ICSA will try to help and advise the schools to improve their standards.
National Marketing & Press
One of the key areas of focus for ICSA's is the ongoing mission to raise 
the profile of the underlying ethos of ICSA and the service standards of its members. To this end ICSA has had articles regularly placed in the national press – The Daily Express, Daily Telegraph and Metro along with 'S' Magazine reaching millions of readers. ICSA has been featured in delicious! Magazine, Food and Travel Magazine, GREAT BRITISH Guide,  amongst others on-line.
ICSA Support members & deliver pro-active National marketing support as part of their membership.
ICSA aims to be recognised as the:
'Greatest British Accredited Cookery School Collection'
OBJECTIVES:
Deliver increased membership value.
Grow overall Consumer awareness.
Drive new sales to member businesses.
PROMOTE:
✔Sustainability
✔Seasonality
✔Sourcing regionally
✔Single use plastic free
✔Support British produces & suppliers. Showcasing high animal welfare and organic farming.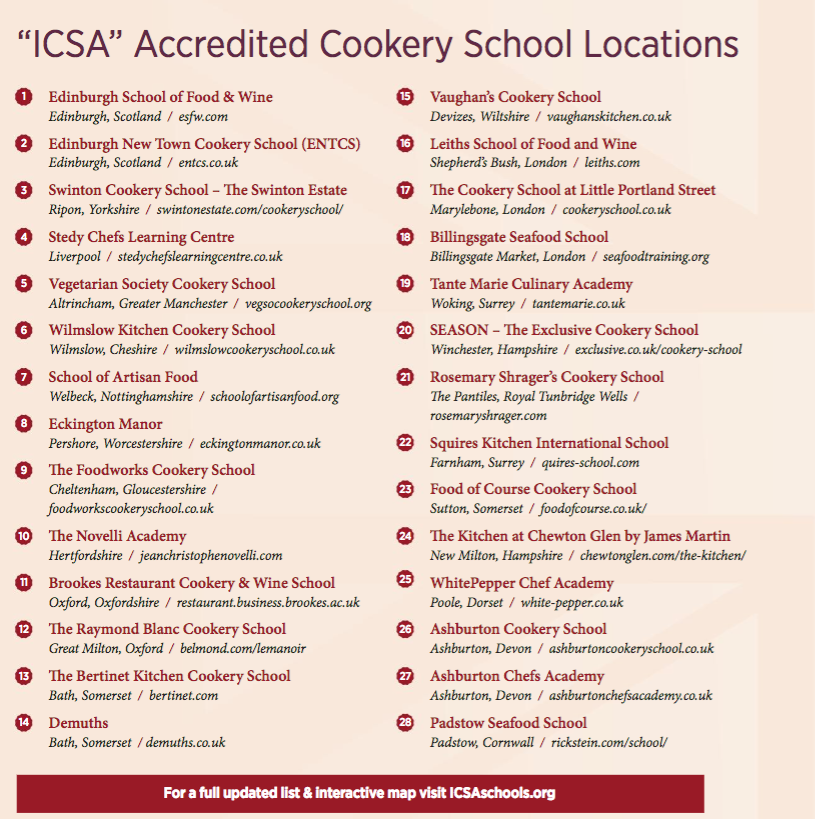 THE ICSA Collection: Greatest British Accredited Cookery Schools
VIEW THE ICSA GREATEST BRITISH COOKERY SCHOOLS COLLECTION
ICSA 'FOUNDATION MEMBER' BENEFITS INCLUDE:
ANNUAL CONFERENCE
For members and invited industry leaders.
National Media:
Features/profiles/reader offers & news stream sent direct to key food, drink & lifestyle media.
National Social Media
Full support network promoting central activity & individual members news/offers.
National Gift Voucher Scheme
Updated national campaign with ZERO Commission to members. Profits re-invested into ICSA.
National 'Last Minute Courses'
Promoted across on-line media network.
National Marketing
Provide tried & tested discounted additional marketing support to members.
National Consumer Membership
Part of GREATEST BRITISH.club Promoting member benefits to high net worth gourmands.
National 'GREATEST BRITISH Cookery Schools'
Members publication.
Supporting ICSA Core Values/Ethos and unique features of membership.
Members magazine, distributed to all ICSA Member course attendees Autumn 2018.
Media Partner Support From:
delicous.Magazine. Food and Travel Magazine. Daily & Sunday Express. Telegraph.
GREATEST BRITISH Campaign
NEW ICSA Members Website.
ICSAcookeryschools.org: Launch Autumn 2018
OFFICIAL ICSA WEBSITE
GREATEST BRITISH COOKERY SCHOOLS GIFTS